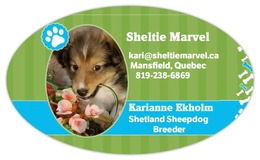 Welcome to Sheltie Marvel
We are a small breeder of beautiful Shetland Sheepdogs located in the Ottawa/Gatineau region. All our puppies are whelped and raised in our family's home with lots of care and attention. We believe the key to great temperament is a lot of love and socialization. All of our pups are open to many different surfaces and textures, have been exposed to several different sounds and visual stimulation both inside and out.
All pups go through behavioral analysis, as well as P.A.T. (Aptitude) Testing, as it is important to me as a breeder, that the puppy is fitted with the right family and their lifestyle.
Our litters are the result of responsible breeding decisions and a deep love for this wonderful breed.
Genetic testing is performed on all dogs, and all conception is done by transcervical insemination, under the care of our re-productive vet, for the safety and well-being of the dogs.
Upon placement, all pups have been microchipped, temperament tested, vaccinated, vet-checked and health certified, along with one month of free accidental pet insurance.
As a reputable breeder, the well being of our pups is top priority, therefore we reserve the right to refuse a sale.